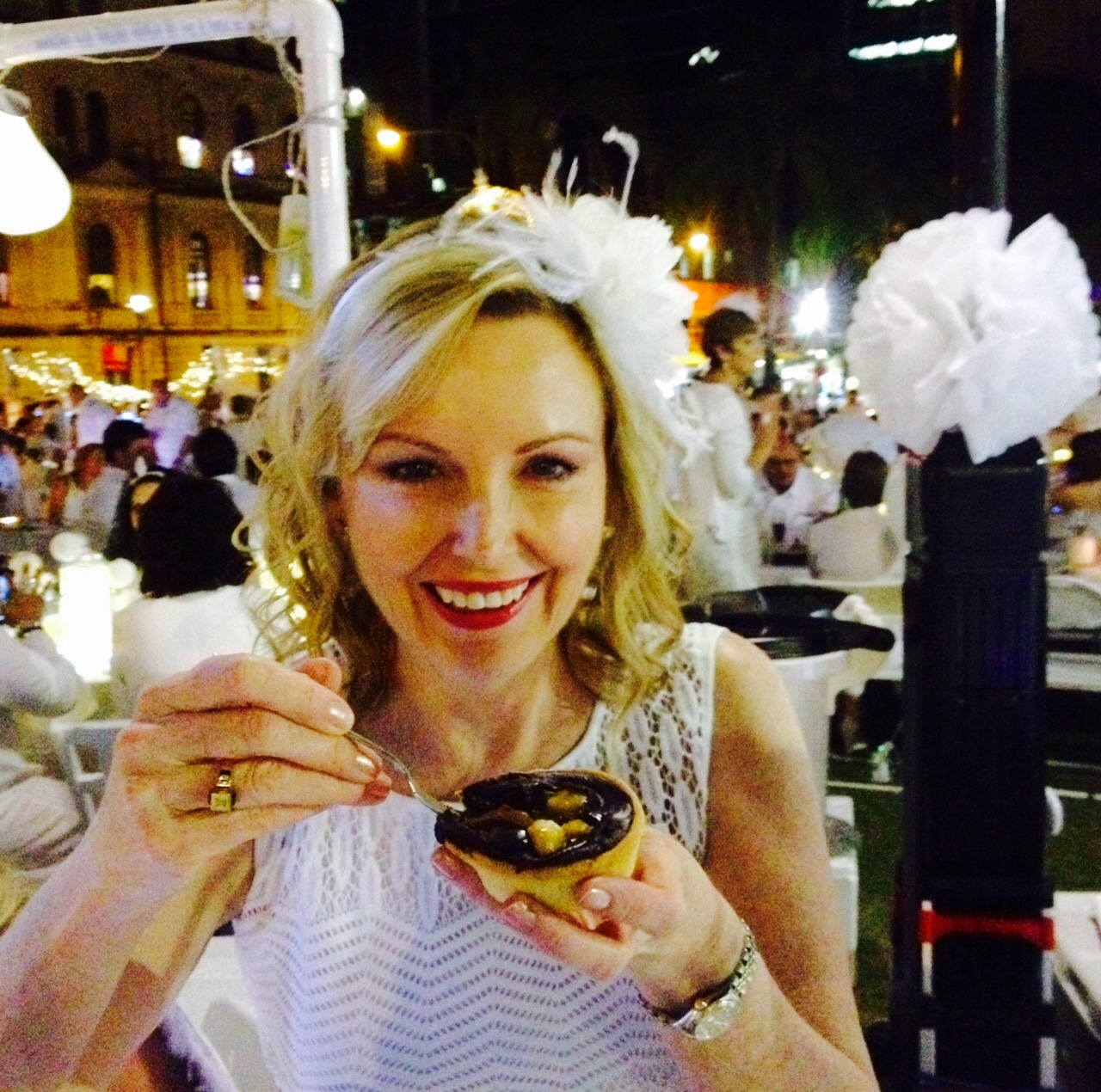 It's secretive, it's exclusive, but it's oh so delicious. The annual Dîner en Blanc or White Dinner has become a 'must do' for dedicated foodies where chic is de rigeur along with a picnic basket full of tasty morsels to be shared at your table. The idea began in Paris a quarter-century ago among friends, but like all great ideas it caught on and is now a major international event. So why would you want to dress in white and cater your own dinner for a highly selective event? Well, it's the food of course!
Being a French concept, champagne is vital and frankly it's the perfect tipple on a warm summer evening where anticipation of a gorgeous meal already has you tingling. Armed with a coupe of golden bubbles and my camera, I set off from our table to investigate what the other guests had brought along. Like proud competitors at a CWA sponge contest everyone was happy to showcase their efforts. Nerd alert: when foodies gather there is most definitely animated conversation about sourcing ingredients, cooking techniques and how to plate their courses from food savers and eskies.
Among the tables were some francophiles who provided a menu any self-respecting French family might enjoy on a Sunday afternoon in the park:
Amuse-bouche—a selection of olives, paté, French cheeses and dips to ease into the evening.
Entrée—avocat tartare et gambas (avocado, hazelnuts, pomelo and lime with local prawns)
Plat principal—a selection of cold meats and salads including roast beef, chicken, smoked salmon, a green salad and fresh baked baguette with that essential crunchy crust.
Dessert—Crème brûlée described as creamy deliciousness and accompanied with a selection of delicate little petit fours
This was a group of seasoned picnickers and while I doubted there would be any, I made a mental note to sneak back later to mooch some leftovers.
Now you know you're among hard-core foodies when their menu is laminated against sloshing champagne (unless you're a winning F1 driver there is no excuse for spilt champagne!) and they have two fish courses. Yes, the appetiser was Kokado (snapper in coconut milk) and the hero of the main was a lobster medallion. I was in the presence of take-no-prisoners gourmands. The logistics alone to deliver warmed lobster at a picnic merits respect. Sandwiched between the snapper and the lobster was a homemade terrine of duck and pork with pistachio. Yum! On the off chance you still had room, dessert was mixed fruit with honey, more pistachios and a cognac crème. Had I been wearing one, I'd have given a chapeau for their inventive ambition.
So did I have picnic regret when I returned to my own table? Would our offerings measure up? Thankfully the French inspired delights met with satisfaction, soothed by more champagne (I lost count) and the convivial ambience of food lovers gathered for a shared passion under the stars. While Dîner en blanc has its cachet, there's nothing stopping you organising your own gourmet picnic in an iconic setting and among friends. Bon appétit!