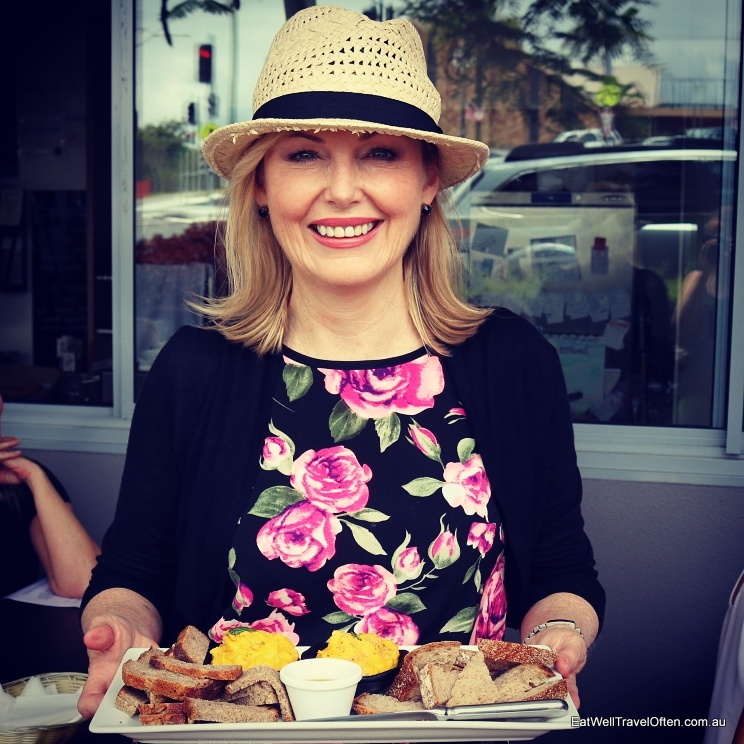 Shannon from Eat Well Travel Often joined our Burleigh food and wine tour, read her blog post below:
Gold Coast Food and Wine Tours has just launched, and I was invited to be one of the first to taste test their new Burleigh walking tour!
After driving from Brisbane with my friend Clare, we joined the Saturday morning tour, which started at the sleep-in-friendly time of 10am.
Our host, the 'food-tastic' Karen, is a Gold Coast local and self-confessed 'food fanatic', her tastebuds have taken her on many grand adventures (early next year she will be eating her way around Japan).
After years frequenting the best bars, cafes and restaurants on the Gold Coast Karen has decided to share her passion, and her secrets, so that everyone can discover the best places to eat and drink in her world famous city.
Now, I don't want to give too much away…..but here are a couple of my favourite tastebud tickles from the tour….
Karen lead our pack of hungry food-fanciers to an  unassuming café where we were seated at a big table and served house lemonade – made from freshly squeezed lemons, with a hint of rosewater that made it absolutely enchanting. An award winning café, we were presented with beautiful tasting plates of flavoursome falafels and Middle Eastern fare. Incredibly popular with the locals the café is always packed on weekends, but we got in before the crowds, and spoke to the chef, who passed around a plate of spices from her soon-to-be-busy kitchen.
Aaaaaand that's all the sneak peak you're going to get…
The food scene on the Gold Coast is coming on in leaps and bounds, and it's not until you do a tour like this that you really appreciate the high quality offerings that are falling over themselves to say hello.
Book your place on the Burleigh food tour now and discover nooks and crannies you never knew existed, places so good you won't want anyone else to know about them (this is our little secret right).
For me the beauty of these tours isn't just the food, it's the passionate chefs and restaurant owners. I truly believe you can taste the love and happiness in their food. And in Kevin's case you might even get a hug 🙂
Gold Coast Food and Wine Tours have vouchers available – a great gift!
**Karen will be expanding her tours to include Burleigh, Broadbeach and beyond. She also runs special events (like wine tastings) and tours of Mount Tambourine.